1/9/2017 - 8:00 PM Uhr
Captain Fantastic (in german language)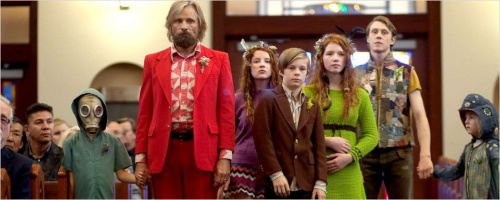 USA 2015, 120 min.
Director: Matt Ross
with: Viggo Mortensen, George MacKay, Samantha Isler, Annalise Basso, Nicholas Hamilton, Shree Crooks, Charlie Shotwell, Trin Miller
Ben Cash, his wife Leslie, and their six children live deep in the wilderness of Washington state. Ben and Leslie became disillusioned with capitalism and American life, and chose to instil survivalist skills and philosophy in their children. Isolated from society, Ben and Leslie devote their existence to raising their children – educating them to think critically, training them to be self-reliant and be physically fit and athletic, guiding them in the wild without technology, and demonstrating the beauty of co-existing with nature.

Leslie is hospitalized for bipolar disorder and eventually commits suicide. Ben learns the news from his sister Harper and gets into an argument with his father-in-law Jack over her funeral arrangements. Ben wants to cremate Leslie, according to her own wishes, while Jack wants to have her buried. Ben initially does not want to attend the funeral, and prevents his children from doing so. He then decides to crash the funeral, and leads his children to a road trip. They have a culture clash with life outside the wilderness.

The family briefly stays at Harper's house. She and her husband try to convince Ben that his children should attend school and have a real education. Ben argues that his children are better educated than Harper's own children. Ben leads his children into Leslie's funeral, interrupting the service. He reads Leslie's will, which instructs her family to cremate her and to flush her ashes down the toilet. In response, his father-in-law has Ben forcefully removed.

Ben's children start having doubts about their father and his parenting skills. His son Rellian accuses Ben of failing to treat Leslie's mental health problems. His son Bodevan accuses his father of failing to equip them for the real world and shows him college acceptance letters from Ivy League schools that Leslie had helped him apply for. Rellian wants to live with his grandparents, who want to take custody of them. When Vesper tries to climb into a window to "free" Rellian from his grandparents, she falls from the roof and injures herself. She is taken to hospital but is not seriously hurt and Ben, shocked and guilty, allows Jack to take in his children. While the children stay under Jack's roof for a while and bond with their grandparents, they decide to follow Ben again when he departs.

The children want to honor Leslie's funeral wishes and convince Ben to help them. They illegally exhume Leslie's corpse and burn it in a self-made funeral pyre. Leslie's ashes are soon flushed down an airport toilet. Bodevan leaves the family to travel and find his place in the world. The rest of the family settle in a farm, living in a house. The children still adhere to Ben's philosophy of life, but have started attending school.
Information & booking:
Organization: Filmclub
Tickets:
At 7.30pm in the foyer of the Forum Bressanone
More information: www.filmclub.it