12/19/2016 - 8:00 PM Uhr
I, Daniel Blake (in german language)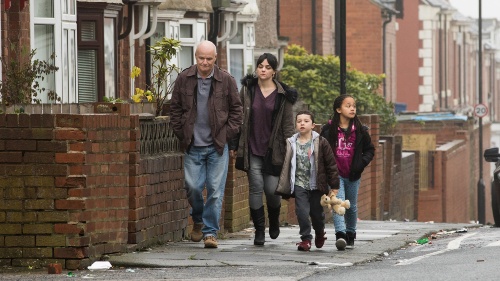 GB/FR 2016, 100 min.
Director: Ken Loach
with: Dave Johns, Briana Shann, Hayley Squires, Dylan McKiernan, Natalie Ann Jamieson, Micky McGregor, Colin Coombs
Daniel Blake is a 59-year-old joiner living in the North-East of England who has worked all his adult life but has suffered a major heart attack. The film begins when his recovery is incomplete and his cardiologist is concerned that Daniel's heart might begin to beat abnormally, putting him at risk of developing a life-threatening arrhythmia.

Daniel has reasonable day-to-day function – such as shopping and doing DIY - and he scores some points at his eligibility assessment for the sickness benefit called "Employment and Support Allowance"; however, his points tally is below the threshold needed to qualify for this benefit and so he is deemed "fit for work". Daniel has assumed that the unspecified "healthcare professional" from the global outsourcing company that carried out his Work Capability Assessment, portrayed as a ludicrous box-ticking exercise, has contacted his doctors for information on his condition, but she has not. The upshot is that the test's criterion for people who are at risk – which would have qualified Daniel for sickness benefits – is not applied by the Job Centre's unseen "decision-maker". Daniel's only option is to claim Jobseekers' Allowance (JSA), for people who are able and ready to work, while he waits for his appeal against the decision on his fitness for work to be heard.

While Daniel struggles inside a web of red tape, he meets single mother Katie and her two children, Dylan and Daisy, who, to escape a homeless persons' hostel in London, and with no other accommodation available in the capital, move to housing 300 miles (480 kilometres) away in Newcastle. Katie has been "sanctioned" – her benefits have been stopped because she briefly got lost on the way to the Job Centre – and she cannot feed everyone in her family nor heat their apartment. Widower Daniel, single-parent Katie and her children try to deal with the poverty they now face together. Katie is drawn into the black economy, while Daniel hopes that his legal appeal will ultimately be successful.
Information & booking:
Organization: Filmclub
Tickets:
At 7.30pm in the foyer of the Forum Bressanone
More information: www.filmclub.it