3/27/2017 - 8:00 PM Uhr
Moonlight (in german language)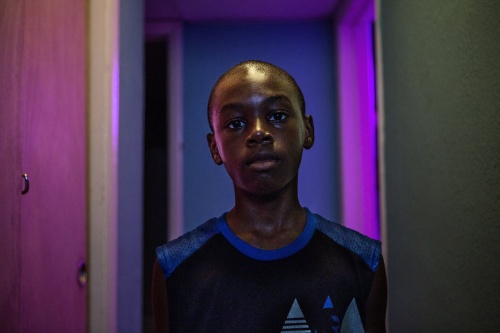 USA 2016, 111 min.
Director: Barry Jenkins
with: Mahershala Ali, Naomie Harris, Trevante Rhodes, André Holland, Janelle Monáe, Ashton Sanders, Jharrel Jerome, Alex Hibbert, Jaden Piner

Chiron (Alex Hibbert), a shy and withdrawn child dubbed "Little" for his meek personality and size, is found hiding from a pack of bullies by Juan (Mahershala Ali), a crack dealer, who takes Chiron to his house where he lives with his girlfriend, Teresa (Janelle Monáe). After being fed dinner and allowed to spend the night, Chiron begins to open up. The next morning, Juan delivers Chiron back to his emotionally abusive mother, Paula (Naomie Harris).
The only other person in whom Chiron finds companionship is Kevin (Jaden Piner), to whom he begins to grow attached. Chiron and Juan continue spending more time together, the latter teaching Chiron how to swim while advising him to make his own path in life. One night, Juan notices one of his customers smoking crack in a nearby car with Paula. Juan berates Paula for smoking crack while Paula rebuffs him for selling it to her. Nonetheless ashamed, she takes out her frustrations on Chiron. The next morning, Chiron admits his hatred for his mother to Teresa and Juan. After confronting Juan about selling drugs to his own mother, Chiron leaves as Juan hangs his head in shame.

Now a teenager, Chiron (now played by Ashton Sanders) is frequently bullied by one of his peers, Terrel (Patrick Decile), though continuing to remain close to Kevin (now played by Jharrel Jerome). Paula has since become addicted to crack, solicits herself, and coerces Chiron to give her money given to him by Teresa, with whom he continues to spend nights over, despite Juan now being deceased.
One night, Chiron has a dream in which Kevin has sex with a woman in the backyard. On another night, Kevin visits Chiron at the beach near his house. While smoking a blunt, they discuss their ambitions in life and the nickname Kevin has given Chiron, "Black." After a charged moment, the two boys kiss and Kevin gives Chiron a handjob.
The next morning, Terrel pressures Kevin into partaking in a hazing ritual, ordering him to punch Chiron, to which he reluctantly complies. Chiron refuses to stay down, forcing Kevin to hit him multiple times. Once Chiron is unable to get up, Terrel and others nearby stomp on him until they are chased away by a security guard. A social worker urges Chiron to reveal the identities of his attackers, but Chiron believes reporting them will not solve anything. The next day, he walks into class and smashes a chair into Terrel's back. Chiron is subsequently arrested. As he is put into a police car, he glares at Kevin, who is standing by.

Now a hardened adult, Chiron (now played by Trevante Rhodes) is a drug dealer living outside Atlanta, going by the name "Black". Having moved up since running drugs after leaving juvie, he now leads a similar life to the one Juan led. Chiron receives frequent calls from Paula, asking him to visit. One night, he gets a call from Kevin (now played by André Holland), who asks Chiron to visit him in Miami, where he works as a server and cook at a diner, also apologizing for his actions as a teenager. The next morning, Chiron wakes up to find that he has had a wet dream. The following day, he goes to visit his mother, who now resides at a drug treatment facility and has become repentant for her previous behavior. After a tense exchange, Chiron tearfully forgives her.

Chiron travels to Miami to reunite with Kevin, but when they finally meet, Chiron is reluctant to speak or drink with Kevin, who himself is surprised by Chiron's new appearance and simple motivation for seeing him. After a romantic re-encounter while playing the song Hello Stranger in the restaurant's jukebox, both head to Kevin's home. Kevin confides that although it may not have turned out the way that he had hoped, he is still happy with his life now. Chiron admits to Kevin that he never had intimate relations with another person, let alone another man, after Kevin. They physically reconcile shortly after, with Kevin shown holding Chiron in a tender embrace. In a flashback, a young Chiron plays in the ocean in the moonlight.
Information & booking:
Organization: Filmclub
Tickets:
At 7.30pm in the foyer of the Forum Bressanone
More information: www.filmclub.it