12/22/2018 - 8:00 PM Uhr
Symphonic Winds 2018 & 2018 & Pei-Ching Wu, Percussion, Marimba – Taiwan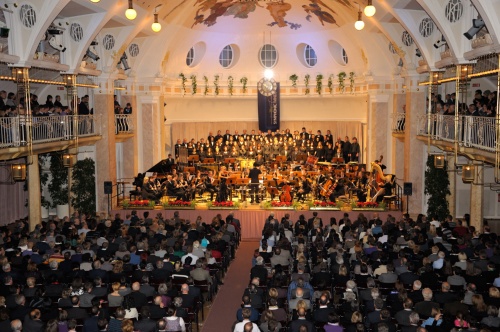 Das unter der künstlerischen Leitung von Alexander Veit stehende Blasorchster Symphonic Winds wird heuer gemeinsam mit der taiwanesischen Percussion- und Marimbakünstlerin Pei-Ching Wu auf den Südtiroler Konzertbühnen zu hören sein.
Pei-Ching Wu gilt auf Grund ihrer atemberaubenden Technik als eine der größten weiblichen Künstlerinnen ihrer Generation.
Pei-Ching Wu, in Taiwan geboren und dort ansässig, ist Gründungsmitglied der namhaften und äußerst erfolgreichen Ju Percussion Group, mit welcher sie weltweit konzertiert. So gastierte das Ensemble bisweilen in Asien, Europa und Amerika. Pei-Ching Wu performt regelmäßig als Marimba-Solistin und gibt das ganze Jahr hindurch Recitals, wobei sie immer wieder neue Werke zum Besten gibt, welche ihr die Ausführung der sechs-Schlägel Technik abverlangen. Pei-Ching Wu ist Musik-Professorin an der Taipei National University of the Arts und an der Faculty at the National Taipei University of Education and Shih Chien University. Sie selbst studierte unter anderem bei Tzong-Ching Ju, Keiko Abe, Robert Chappell, Richard Holly, Tim Peterman und Paschal Younge. Wu erlangte 1994 ihren Master an der Northern Illinois University und legte zudem 2005 ihr Doktorat an der West Virginia University ab. Pei-Ching Wu konzertierte bisweilen unter anderem mit der Amadinda Percussion Group im Rahmen des Budapest Spring Festivals, weiters mit Martha Argerich 2001 beim ersten Martha Argerich Music Festival in Taipei. Zudem gastierte sie 2005 im Rahmen der Taipei International Percussion Convention. 2009 und 2011 wurde Wu für den 8th bzw. 10th bedeutendsten taiwanesischen Kunst-Preis "Taishin Arts Award" nominiert. 2010 trat sie im Rahmen des 4th World Music and Dance Festival an der Ohio University auf. 2013 wartete Pei-Ching Wu als Jurorin beim International Marimba Competition in Belgien auf.
Information & booking:
Kartenvorverkauf:
Die Kartenvorverkaufstelle muss erst fixiert werden.
Restkarten am Tag des Konzertes ab 18:00 Uhr unter der Tel. 0472 275 520.