12/18/2017 - 8:00 PM Uhr
The Big Sick (in german language)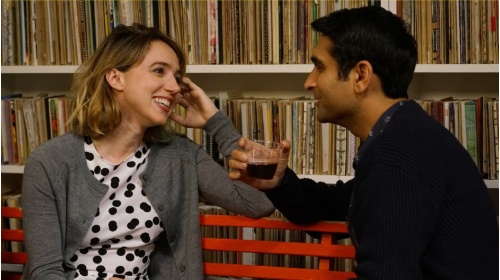 USA 2017, 120 min.
Director: Michael Showalter
With: Kumail Nanjiani, Zoe Kazan, Holly Hunter
Kumail is a young Chicago standup comedian who drives for Uber and performs at night. Though he has a one-man show about his Pakistani background, he has no faith in Islam, a fact he conceals from his Muslim family. His immigrant parents set him up with Pakistani women, hoping he will follow their example of an arranged marriage, but he is uninterested.
During a show, Kumail is heckled by Emily, a non-Muslim white woman in the audience. He approaches her after the show and their one-night stand develops into a relationship. Kumail does not tell his family about Emily, as they would disapprove. When Emily finds pictures of the women Kumail's parents have set him up with, Kumail admits he does not see a long-term future with her due to his family's expectations. Emily ends their relationship.
Kumail learns that Emily has been taken to the hospital after having fainted. A doctor tells him that Emily has a serious lung infection and must be immediately placed in an induced coma with tracheal intubation. He signs the permission form and calls her parents, Beth and Terry. Aware that Kumail hurt their daughter, they tell him he is not needed, but Kumail stays and the three become close as they deal with Emily's illness.
Surgery is ineffective and the infection spreads to Emily's kidneys. Beth wants to transfer Emily to a different hospital, but Kumail and Terry disagree. Beth and Terry argue, and she brings up Terry's past. Terry stays with Kumail and reveals that he cheated on Beth and regrets it.
Kumail's parents visit his apartment, angry that he is not taking their marriage suggestions seriously. Kumail tells them that he does not want an arranged marriage and has no interest in Islam, and reveals his relationship with Emily; his parents disown him. As Kumail prepares for an audition for the Montreal Comedy Festival, he learns that the infection has reached Emily's heart. Distraught, Kumail spends the audition talking about his fears about Emily, and fails the audition.
Emily wakes from her coma. The doctors explain she has adult-onset Still's disease, a rare but treatable illness; Kumail inadvertently helped them diagnose when he mentioned she had an ankle that was slow to heal. Still bitter from their breakup, Emily tells Kumail to leave. Beth invites Kumail to Emily's homecoming party. Kumail asks Emily to take him back, but she refuses.
Kumail decides to move to New York City with two comedian friends. He tells his family about his plans and refuses to allow them to disown him. Emily discovers a video of Kumail's disastrous performance and visits him after his one-man show, where he tells her about New York. She tells Kumail she appreciates everything he did for her while she was in a coma. At a performance in New York, Kumail is heckled by someone in the crowd; he sees that it is Emily.
Information & booking:
Organization: Filmclub
Tickets:
At 7.30pm in the foyer of the Forum Bressanone
More information: www.filmclub.it