10/29/2023 - 6:00 PM Uhr
Concert: Stella Matutina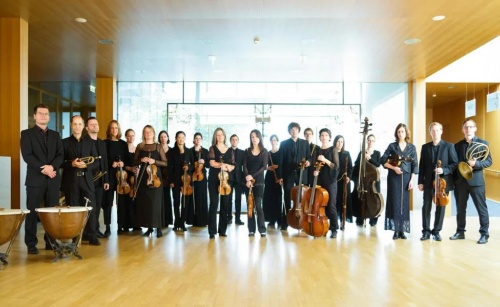 Alfredo Bernardini, oboe and conductor
Works by Georg Friedrich Händel and Georg Philipp Telemann
Since its foundation in 2005, the Vorarlberg Baroque Orchestra Concerto Stella Matutina - CSM for short - has earned a permanent place among Austria's leading original sound ensembles. It is impossible to imagine the cultural scene of the transnational Lake Constance region without CSM. The artistic hub is the highly successful subscription series at the AMBACH cultural centre in Götzis, where a loyal audience in the sold-out hall particularly appreciates the diversity and uniqueness of the concerts. Since 2008, over 50 (as of 2018) different programmes have been created outside the mainstream, some of which are developed by the ensemble itself, or together with interesting guests from the early music scene, such as Alfredo Bernardini, Rolf Lislevand, Christophe Coin, Erich Höbarth, Hiro Kurosaki, and many others.
Guest performances have taken the ensemble throughout Austria and neighbouring countries to many renowned festivals such as the International Baroque Days at Melk Abbey, Jeunesse Vienna, Abendmusik Innsbruck, Origen Festival Graubünden (CH), Rheingau Festival, Lake Constance Festival, Festival Musik und Kirche Brixen etc.
CSM's work is documented by regular radio broadcasts on Radio Vorarlberg, Ö1, Bayern Klassik as well as SRF2 and several CD productions.
About the history
Stella Matutina is the name of the former Jesuit College in Feldkirch, whose building has housed the State Conservatory for Vorarlberg since 1977. For most members of the CSM, this place was the beginning of their professional musical careers. Some have even returned here as teachers in the meantime.
Entrance fees:
Normal price € 15.00
adult
Reduction € 10.00
Members of Stiftung Musik Brixen & Pro Cultura
Family pass
Seniors over 65
Reduction € 5.00
Children & teenagers up to 18
Students with ID up to 26
Students of music schools
Music teachers together with students