5/5/2022 - 8:30 PM Uhr
Il paradiso perduto (theatre in italian language)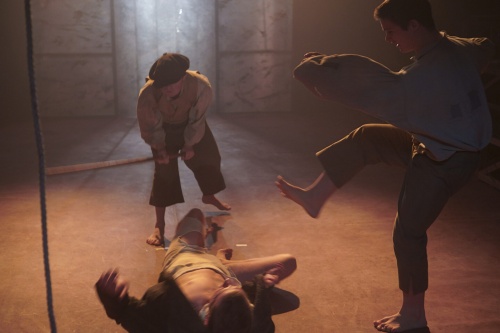 Dr. Victor Frankenstein creates an artificial human being in defiance of the ethical and moral laws of his time. He acts with good intentions, wanting to save man from death and disease, but he fails. For the creature corresponds neither to the scientist's ideas nor to the image of man of that time. The sight of him is frightening: imperfect, asymmetrical and deformed. Moreover, he is sensitive and has deep feelings. From the moment he is abandoned to his fate, he wanders the world in search of a place to stay, but he experiences only violence.
For some, the sight of him is an outrageous insult to God; for others, it is an advance of science that must have no limits. These contrasting views and reflections make him a figure that is still relevant, because it asks us questions that are still relevant today. They concern our concept of beauty, the concept of the body and the question of the ethical and moral limits of science; but also the question of what a human being is and the question of his meaning in this world.
By Antonio Viganò
With: Paolo Grossi, Rocco Ventura, Michael Untertrifaller, Jason De Majo, Maria Magdolna Johannes, Mirenia Lonardi, Sara Menestrina, Stefania Mazzilli Muratori, Rodrigo Scaggiante
Text and direction: Antonio Viganò
Dramaturgy and musical arrangement: Paola Guerra
Stage design and costumes: Roberto Banci
Lighting: Andrea Berselli
Make-up: Giulia De Biasi
Technique: Andrea Venturelli
Production: Teatro la Ribalta-Kunst der Vielfalt
Information & booking:
Information and tickets:
Teatro La Ribalta
It is compulsory to wear an FFP2 mask (from the age of six)!
More dates:
5/4/2022 - 8:30 PM Uhr
More information: www.teatrolaribalta.it