1/18/2023 - 8:00 PM Uhr
Martenstein liest & Clementi singt (theatre in german language)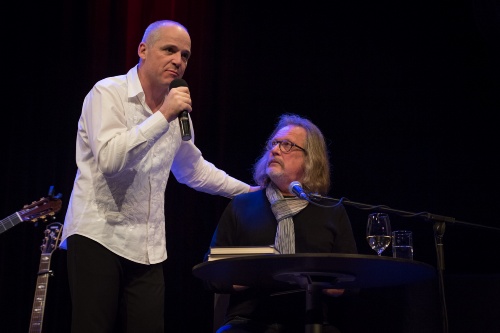 Time Columns and Time Songs
Texts and reading: Harald Martenstein
Vocals: Georg Clementi
Guitars: Ossy Pardeller
The only way out: humour!
Harald Martenstein, columnist of the weekly newspaper "DIE ZEIT", writes ingenious glosses, Georg Clementi, award-winning chansonnier and creator of Zeitlieder, transforms them into music. They have been doing business together for some time now and go on tour together.
When Georg Clementi opens his favourite reading, DIE ZEIT, his first glance is the Martenstein column. "I love them. Even if they come across as provocative and ironic, there is always a palpable warmth of heart, and they are witty and funny to boot," he says. "A mixture of caressing and pleasure in the waddle," as a journalist from the Süddeutsche Zeitung put it.
Georg Clementi, who demonstrated a certain affinity for current affairs early on when he chose the day of the moon landing in 1969 for his birth in Bolzano, has refined several Martenstein columns into chansons. Together with Ossy Pardeller on the guitar, he performs them. They combine social criticism with humour ("Whoever you are"), deal with the hardships of men in times of political correctness ("Kiss the hand") and much more. An evening full of humour, good music and lightning-smart lyrics.
Photo © Leo Fellinger
Duration: ca. 2 hours, with break


Without introduction!
Information & booking:
Organization: Südtiroler Kulturinstitut
Information and tickets:
Südtiroler Kulturinstitut
Tel. 0471 313800
Individual tickets: can be reserved from 22 September 2022 at the office of the Südtiroler Kulturinstitut, Via Sciliar, 1 in Bolzano, by telephone on 0471 313800 or by e-mail (info@kulturinstitut.org).
Payment of individual tickets: The reserved tickets must be paid for within 10 days of reservation. Payment can be made directly at the office of the South Tyrolean Cultural Institute or by bank transfer. As reason for payment, please state the name and reservation number you receive when making the reservation. Pre-booked and paid tickets will be deposited at the box office.
Standing room: Standing room tickets are only available for sold-out events, subject to fire regulations at the respective venues and applicable Corona safety measures. They are only available at the box office.
Box office: The box office is open from 7pm on the day of the event.
Discounts: Discounts are available for students up to the age of 26. Senior* citizens receive special prices from the age of 65.
Covid 19:
In the 2022/23 season we will again be playing at full capacity. For your own health and safety, we still recommend that you behave prudently, keep your distance when walking into the hall, remember hygiene and precautionary measures and protect yourself by wearing a mask if necessary.
As the regulations can change at any time, please inform yourself about current regulations promptly before each performance. Please feel free to contact us if you have any questions about this.
People who feel ill, have cold symptoms or a temperature above 37.5 degrees, please stay at home.
More information: www.kulturinstitut.org