9/16/2019 - 4:30 PM Uhr
Movie for children: "Asterix: The Secret of the Magic Potion" (in german language)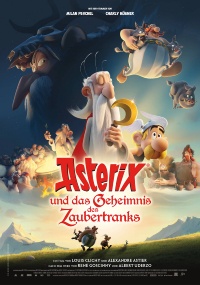 FR 2019, 86 min.
Director: Louis Clichy, Alexandre Astier
animation
In this adventure, Asterix and Obelix embark on a quest across Gaul looking for a young druid worthy of learning the secret of the magic potion, after elderly village druid Getafix breaks his leg when he falls from a tree while picking mistletoe. Once Asterix and Obelix begin their quest, all hell breaks loose at home as the Romans – lead by the ridiculous Tomcrus — start attacking. Meanwhile, an evil wizard named Sulfurix does everything he can to steal the potion's secret recipe, which, for lovers of French cuisine, seems to contain carrots, salt, fish, honey, mead, as well as fresh mistletoe that can only be harvested with a golden sickle.
Recommended from 7 years.
Information & booking:
Organization: Filmclub
Information:
Forum Bressanone
Via Roma 9
39042 Bressanone
Phone number: 0472 275 588
(Office hours: Mo-Fr: 9-12am & 2-5pm)
info@forum-brixen.com
Advance booking:
At 4.00 pm in the foyer of the Forum Bressanone.
More information: www.filmclub.it