1/5/2023 - 8:00 PM Uhr
New Year's Concert with the Haydn Orchestra from Bolzano e Trento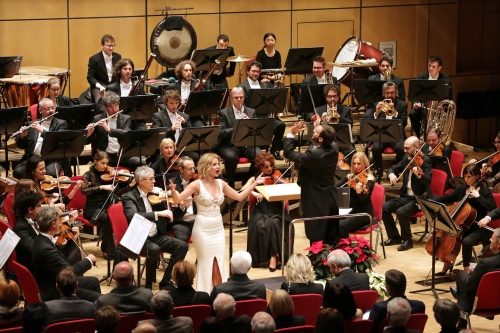 Haydn Orchestra of Bolzano and Trento
Gina Tronel, soprano
Alexander Mayer, conductor
Works by Johann Strauss (son), Jacques Offenbach, Charles Gounod, Franz Lehár, Franz von Suppé, Josef Strauss
New Year's concerts have become extremely popular with all sections of the population. The somewhat nostalgic look back at the past year and the hopeful and confident look forward to the new form a social event for which the Viennese music of the Strauss dynasty creates the ideal sensual atmosphere. In 2023, the Haydn Orchestra of Bolzano and Trento will perform again, this time with the French-Romanian coloratura soprano Gina Gloria Tronel and the German conductor Enrico Alexander Meyer, who won the 2003 Tokyo International Conducting Competition.
In collaboration with the municipality of Bressanone/Brixen
Entrance fees:
Normal price € 25.00
adult
Reduction € 15.00
Members of the cultural association Brixen Musik & Pro Cultura
Students with ID
Family pass
Seniors over 65
Reduction € 10.00
Children & teenagers up to 18
Students of music schools
Music teachers together with students
Information & booking:
Organization: Stiftung Musik Brixen
Advance booking starting from Thursday, December 15:
Forum Brixen-Bressanone
Tel. 0472 275 588 (Mo-Fr 9am-12am and Mo-Tu 2pm-5pm)
info@forum-brixen.com
As the number of seats is limited, it is advisable to reserve tickets for the New Year's Concert early.
In order to avoid crowds, the tickets must be purchased before the concert in the Forum Brixen during office hours from December 15th.
More information: kulturvereinbrixen.it