9/16/2019 - 8:00 PM Uhr
Pain and Glory (in german language)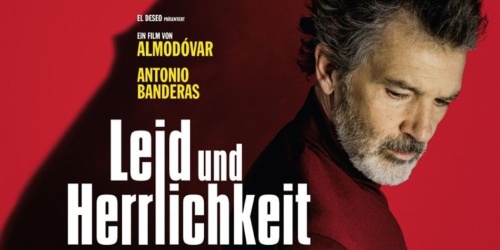 ES 2019, 113 min.
Director: Pedro Almodóvar
with: Antonio Banderas, Penélope Cruz, Asier Etxeandia, Leonardo Sbaraglia, Nora Navas u. a.
The film narrates a series of reencounters of Salvador Mallo (Antonio Banderas), a film director in his decline. Some of these reencounters play out in real time, others are recalled through flashbacks: his childhood in the 1960s, when he emigrated together with his family to the primitive village of Paterna, his schooling, his first adult love in Madrid in the 1980s, the pain of the breakup of this relationship, writing as a therapy to forget, the discovery of cinema, facing the impossibility of continuing filming, etc.
The Spanish film director Salvador Mallo (Antonio Banderas) is in the middle of a creative crisis, afflicted with physical and mental ailments right as an earlier film of his (Sabor, or 'Flavour') has been remastered and re-released to appreciative audiences. He calls in on Alberto Crespo (Asier Etxeandia), the lead actor from Sabor, with whom he has not spoken for 30 years due to a quarrel over the actor's performance, referring to Almodovar's own falling out with Banderas. Crespo introduces Salvador to heroin smoking. When taking the drug Salvador revisits some of his childhood experiences: how he moves into a whitewashed cave house with his father (Raúl Arévalo) and mother Jacinta (Penelope Cruz), where a local labourer (César Vicente) learns to read and write under his tutelage. Crespo brings a monologue of Salvador's memories from 1980s Madrid to the stage, in which Salvador's lover Federico (Leonardo Sbaraglia) is mentioned, who happens to be sitting in the audience. Federico (who has married and had children) finds Salvador's apartment (which is in fact Almodovar's own home in Madrid) where the pair drink toasts to one another, reminisce and flirt briefly before parting amicably. Salvador recognises that his struggles with heroin and drug addiction mirrors that which he witnessed in Frederico during their time together and he tells his doctor that he needs treatment. In a flashback, his now-elderly mother (Julieta Serrano) accuses him of having left her and of not having been a good child. Before he can prove his love to her, she dies in the hospital instead of in the country, as she had wished. Salvador's assistant hands him an invitation to attend an art exhibition and he recognises himself as the boy in a painting on display. His memory flashes back to the cave home when the labourer was tiling the kitchen. The labourer stops to sketch Salvador sat in the sun, then says he needs to bathe. Salvador leaves to lie down on his bed, sweating from the heat, and faints from sunstroke when fetching a towel for the labourer (although this could be a metaphor for the boy's homosexuality coming to the fore when seeing the labourer in the nude during his strip wash). Back in the present day and Salvador has bought the painting that the labourer had finished of him and sent to his mother while Salvador was away at school, but had hidden from him. On the reverse is a letter from the labourer thanking Salvador for teaching him to read and write. Salvador's assistant says it would be easy to find the labourer again through Google or by asking around at the village, but Salvador dismisses the idea as being too far-fetched, despite the various coincidences that had already arisen during the film. Salvador undergoes surgery to remove a growth affecting his throat that was causing him to occasionally choke for no reason. In the final scene we revisit the young Salvador with his mother en route to their new home in the village of cave houses: they are having to sleep on the floor of a train station because the village they are passing through is having their local festa. The young Salvador watches the village's fireworks in wonderment, fixated on the spectacle, while his mother is visibly anxious and upset with her situation. The camera moves back and reveals a sound engineer recording the pair are on the floor of a movie set. We see Salvador behind the camera, recreating a memory from his childhood on film, his creative crisis overcome.
Information & booking:
Organization: Filmclub
Tickets:
At 7.30pm in the foyer of the Forum Bressanone
More information: www.filmclub.it