1/20/2023 - 8:30 PM Uhr
Theatre: Tutto sua madre (in italian language)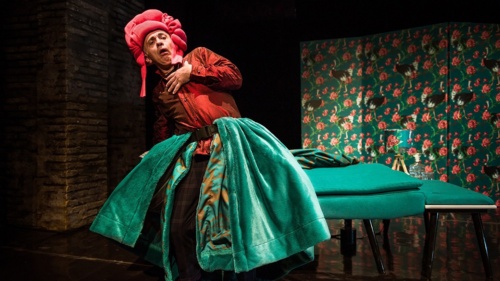 Theatrical Performance Based on "Les Garçons Et Guillaume, À Table!"
by Guillaume Gallienne
with Gianluca Ferrato
directed by Roberto Piana
translation from French Anna D'elia
dramaturgical adaptation Tobia Rossi
assistant director Angelo Curci
sets Yasmin Pochat
costumes Agostino Porchietto
light designer Renato Barattucci
wallpaper designer Simone Guidarelli
illustrator Matthew La Croix
This hilarious, subtle, profound monologue is so full of characters that it seems like a comedy. The peculiarity is that all these characters are played by a single actor, in a sort of transformist whirlwind of word and voice.
"All his mother" is a text in which one can laugh a lot, make the necessary reflections on family conditioning and understand how any (re)birth, is providential, desirable or even necessary, even when it is a coming-out in reverse, just like that of Guillaume, the protagonist of the story. Because 'All His Mother' is the story of a boy who, through vicissitudes and adventures, tries to assert his heterosexuality in a family that had already largely categorised him as homosexual.
Guillaume is not like his handsome and testosteronic brothers, he is the exact opposite.
Disliked by his father and brothers, he finds himself imitating and bringing to life all the women he has imagined or known, gradually becoming Princess Sissi, Archduchess Sophie, a perfect Andalusian dancer, his grandmother, his aunt. In short, every woman he observes or admires. But more than anything else, he finds himself pleasing and idolising his mother, whom he tries to imitate in every nuance, every feature, another reason why the family considers him effeminate. But the story will take a bizarre and unpredictable turn...
production COMPAGNIA MOLIÈRE
Duration: approx. 85 min.
Information & booking:
Organization: Teatro Stabile di Bolzano
Teatro Stabile di Bolzano
Tel. 0471 301 566
www.teatro-bolzano.it
TICKET PRICES
full numbered seat € 19
reduced price tickets over 65 numbered seats € 14
concessions under 26 and CGN holders numbered seats € 9
reduced price for under 20s numbered seats € 6
TICKET SALES ON PERFORMANCE DAYS
from 7 p.m.
PRE-SALE TICKETS
In Bolzano at the municipal theatre box office and online at www.teatro-bolzano.it
From 2nd October tickets will be available for purchase at the following 13 branches of the Sparkasse, distributed throughout the region: the three branches in Bolzano (Gries, Point 12, Via Roma), in the Merano office, in Bressanone, Brunico, Vipiteno, Laives, Egna, Appiano, Silandro and, finally, in two branches in Trentino (Trento Palazzo Sani and Rovereto).
SUBSCRIPTIONS
14 shows
13 on view at the Forum
1 on view in Bolzano at the Teatro Comunale (free bus service reserved for subscribers)
THREE-YEAR SUBSCRIPTION
This year it will again be possible to subscribe to three seasons 2022-23 / 2023-24 / 2024-25 at a special price.
Full season ticket € 150 instead of € 195
Reduced season ticket € 123 instead of € 165
Season ticket under 26 and CGN holders € 67 instead of 90
Season ticket under 20 € 45 instead of 60
ANNUAL SUBSCRIPTION
Full season ticket € 65
Reduced season ticket € 55
Under 26 season ticket and CGN holders € 30 (second under 26 season ticket free)
Under 20 subscription € 20 (a second under 20 subscription is free)
The purchase of new annual and three-year subscriptions, reconfirmations of annual subscriptions and withdrawal of three-year subscriptions is possible:
Until 26 October in Bolzano at the ticket office of the Municipal Theatre at Piazza Verdi 40 (Tuesday to Friday from 11 a.m. to 2 p.m. and 5 p.m. to 7 p.m., Saturday from 11 a.m. to 2 p.m.) or by calling T 0471 053800.
Unused tickets are not subject to refund. Once the performance has started, no admission to the auditorium is permitted until the first intermission. Cheating does not guarantee the right to keep the seat indicated on the ticket.
For spectators with disabilities admission to performances is reduced and free for the accompanying person.
More information: www.teatro-bolzano.it