11/7/2021 - ganztägig
AKI TEN Brixen 2021 - Bonsai exhibition in Bressanone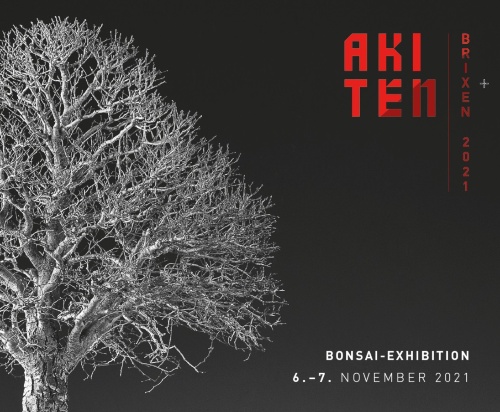 Program:
Saturday, 06/11/2021
9.00 am Inauguration ceremony with guests of honour
9.30 am Opening of the Bonsai Exhibition, the Bonsai Ceramics Contest and the ceramics special show
10.00 am – 1.00 pm Demo with bonsai artist Jean-Paul Polmans from Belgium
1.45 pm – 2.30 pm Lecture on ceramics "Wieder im Ton vergriffen?" Fritz Baier from Austraia
2.45 pm – 5.30 pm Demo with bonsai artist Alfredo Salaccione from Italy
6.00 pm Closing of the exhibition
8:00 pm Get-together at the Bonsai party with delicate specialties" (Hotel Elephnt), followed by the presentation of the winners of the Bonsai Ceramics Contest
Sunday, 07/11/2021
9.30 am Opening of the Bonsai Exhibition, the Bonsai Ceramics Contest and the ceramics special show
10.00 am – 1.00 pm Demo with bonsai artist Nicola Crivelli from Switzerland
1.30 pm – 4.30 pm Demo with bonsai artist Hartmut Münchenbach from Germany
5.00 pm Closing ceremony
Bonsai-Ceramics-Contest
Entry requirements
The contest is open to everybody who is interested, i.e. professional potters but also amateur potters.
Every participant can enter one ceramic in the contest. This ceramic dish must present all the characteristics that are necessary to plant a normal bonsai or a grass bonsai in it, and be frost-resistant. The jury consists of experts that are both artists and technical experts.
The three best ceramics win the following cash prizes:
1st place: 1.300 €
2nd place: 400 €
3rd place: 300 €
The objects that come first in this contest, will become possession of the BONSAI CLUB BRIXEN who will then organize a raffle among all the exhibitors of the "AKITEN 2021". By winning the ceramics, these exhibitors are obliged to exhibit the same artifact in occasion of the "AKITEN 2023", with a bonsai planted in it.
Entry fee: 50 €
The BONSAI CLUB BRIXEN reserves the right to adapt the entry requirements to new conditions and therefore to alter them, should this be necessary.
Tickets AKI TEN
Saturday ticket (exhibition/demos): 10€ (seniors/groups* 8€)
Sunday ticket (exhibition/demos): 10€ (seniors/groups* 8€)
Ticket Saturday and Sunday (exhibition/demos): 15€ (seniors/groups* 13€)
* Admission price for groups of 15 people or more with prior registration
* Entrance fee for seniors aged 65 and over
* Admission for young people up to 18 years of age is free
More tickets
Bonsai party ticket: 58€ (4-course menu including drinks)
Location: Hotel Elephant
Time: 11/6/2021 / 8:00 p.m.
Sign up
In order to reduce the organizational effort and the waiting times on site, please register groups (15 people or more) in advance.
You can do this very easily at: info@bonsaiclubbrixen.com
The entrance fees can be paid directly at the cash desk or transferred in advance to the following account:
IBAN: IT84 T058 5658 2200 7057 0157 073