1/5/2024 - 8:00 PM Uhr
New Year's Concert with the Haydn Orchestra from Bolzano e Trento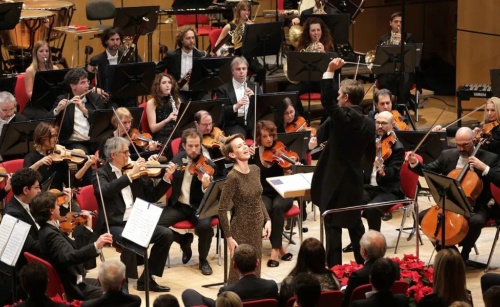 New Year's concerts are extremely popular with all sections of the population. The somewhat nostalgic review of the past year as well as the hopeful and confident view of the new one form a social event for which the Viennese music of the Strauss dynasty creates the ideal sensual atmosphere. On 5 January 2024, the Haydn Orchestra of Bolzano and Trento will once again perform, this time with conductor Alessandro Bonato.
Programme:
Johann Strauss
Overture from "Die Fledermaus"
On the Hunt, Polka fast op. 373
In the doughnut forest op. 336
Josef Strauss
Jokey Polka op. 278
Johann Strauss
A Thousand and One Nights, Waltz op. 346
Csárdás from "Knight Pásmán" op. 441
Tritsch-Tratsch-Polka op. 214
Vergnügungszug, Polka fast op. 281
Viennese Blood op. 354
Opera Masked Ball Quadrille op. 384
Johann Strauss & Josef Strauss
Pizzicato Polka
Johann Strauss
Éljen a Magyar!, Polka fast op. 332
Under Thunder and Lightning, Polka fast op. 324
On the beautiful blue Danube op. 314
In collaboration with the municipality of Bressanone/Brixen
Entrance fees:
Normal price € 25.00
adult
Reduction € 20.00
Family pass
Seniors over 65
Reduction € 10.00
Children & teenagers from 12
Students with ID up to 26

Free admission for children up to 12 years accompanied by parents/grandparents
Information & booking:
Organization: Stiftung Musik Brixen
Advance booking starting from Monday, December 18:
Forum Brixen-Bressanone
Tel. 0472 275 588 (Mo-Fr 9am-12am and Mo-Tu 2pm-5pm)
info@forum-brixen.com
As the number of seats is limited, it is advisable to reserve tickets for the New Year's Concert early.
More information: www.musikbrixen.it