3/23/2023 - 8:30 PM Uhr
Theatre: Il barbiere di Siviglia (in italian language)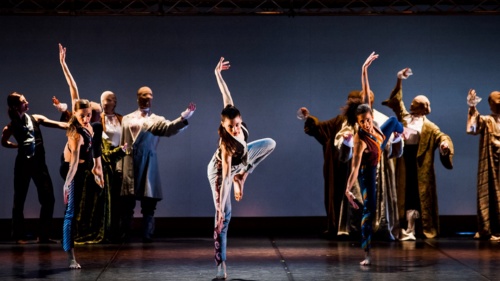 Action Ballet
choreography, sets, lights Monica Casadei
music by Gioachino Rossini
musical elaboration and original pieces Luca Vianini
costumes Daniela Usai
On the occasion of the 150th anniversary of Gioachino Rossini's death, Monica Casadei with the Compagnia Artemis Danza tackles one of the Pesaro maestro's most famous titles, Il Barbiere di Siviglia. The choreographer has imagined the performance as a futuristic 'action ballet': the narrative development involves the entire creative body of Artemis in a contamination of languages. But who is Figaro really? In Casadei's reading, Figaro is the prototype of the successful man in today's world. Rossini's hero becomes the emblem of one who succeeds in satisfying with effectiveness, vivacity and savoir faire the expectations of a society that demands every day to achieve its goals by optimising time and energy.
In terms of choreography, the character of Figaro is multiplied in the bodies of the entire company, where the performers act with the determination, energy and rigour of a special team: toned, gritty and hyper-concentrated, their dance manipulates time and space relentlessly, weaving and unravelling an infinite web of changes of direction, intersecting trajectories and inlays of movements.
Almost as if they were following the routes of crowded, noisy highways, the dancers untangle themselves with lucidity and martial energy, skilful cogs in the crazy mechanism of social living. The result is a performance of action, characterised by an atmosphere suspended between a shadowy past and a flashing, frenetic present: the unattainable image of a perfect man appears and disappears before the eyes of the audience to multiply in the dancers and in their technical virtuosity.
production by Compagnia Artemis Danza
in collaboration with Amat and Municipality of Pesaro
co-production Italian Festival in Bangkok, Festival Orizzonti, Armonie d'Arte Festival
in collaboration with Rossini Opera Festival and Teatro Comunale di Bologna
thanks to A.N.G.E.L.O. Vintage Palace
Duration: ca. 90 min.
Information & booking:
Organization: Teatro Stabile di Bolzano
Teatro Stabile di Bolzano
Tel. 0471 301 566
www.teatro-bolzano.it
TICKET PRICES
full numbered seat € 19
reduced price tickets over 65 numbered seats € 14
concessions under 26 and CGN holders numbered seats € 9
reduced price for under 20s numbered seats € 6
TICKET SALES ON PERFORMANCE DAYS
from 7 p.m.
PRE-SALE TICKETS
In Bolzano at the municipal theatre box office and online at www.teatro-bolzano.it
From 2nd October tickets will be available for purchase at the following 13 branches of the Sparkasse, distributed throughout the region: the three branches in Bolzano (Gries, Point 12, Via Roma), in the Merano office, in Bressanone, Brunico, Vipiteno, Laives, Egna, Appiano, Silandro and, finally, in two branches in Trentino (Trento Palazzo Sani and Rovereto).
SUBSCRIPTIONS
14 shows
13 on view at the Forum
1 on view in Bolzano at the Teatro Comunale (free bus service reserved for subscribers)
THREE-YEAR SUBSCRIPTION
This year it will again be possible to subscribe to three seasons 2022-23 / 2023-24 / 2024-25 at a special price.
Full season ticket € 150 instead of € 195
Reduced season ticket € 123 instead of € 165
Season ticket under 26 and CGN holders € 67 instead of 90
Season ticket under 20 € 45 instead of 60
ANNUAL SUBSCRIPTION
Full season ticket € 65
Reduced season ticket € 55
Under 26 season ticket and CGN holders € 30 (second under 26 season ticket free)
Under 20 subscription € 20 (a second under 20 subscription is free)
The purchase of new annual and three-year subscriptions, reconfirmations of annual subscriptions and withdrawal of three-year subscriptions is possible:
Until 26 October in Bolzano at the ticket office of the Municipal Theatre at Piazza Verdi 40 (Tuesday to Friday from 11 a.m. to 2 p.m. and 5 p.m. to 7 p.m., Saturday from 11 a.m. to 2 p.m.) or by calling T 0471 053800.
Unused tickets are not subject to refund. Once the performance has started, no admission to the auditorium is permitted until the first intermission. Cheating does not guarantee the right to keep the seat indicated on the ticket.
For spectators with disabilities admission to performances is reduced and free for the accompanying person.
More information: www.teatro-bolzano.it