2/8/2023 - 8:30 PM Uhr
Theatre: La peste di Camus (in italian language)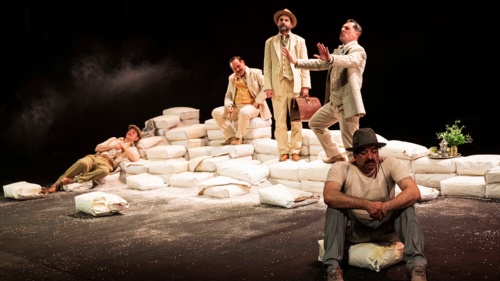 Italian version and adaptation Emanuele Aldrovandi
from the novel The Plague by Albert Camus © Gallimard Edition
direction Serena Sinigaglia
sets Maria Spazzi
costumes Katarina Vukcevic
lights Alessandro Verazzi
sounds and musical choices Sandra Zoccolan
with Marco Brinzi, Alvise Camozzi, Emanuele Turetta, Oscar De Summa, Mattia Fabris
The city of Oran in Algeria is struck by an inexorable and terrible epidemic. Isolated, starving, unable to stop the pestilence, the city becomes the stage for the passions of a humanity on the borderline between disintegration and solidarity. Religious faith, the hedonism of those who neither believe in abstractions nor are capable of 'being happy alone', the simple feeling of one's duty are the protagonists of the story; indifference, panic, bureaucratic spirit and petty selfishness the allies of the plague. Albert Camus' is a novel that plumbs the depths of the human soul and does so by choosing an extreme moment, one of absolute emergency, of upheaval of the ordinary. "Camus' humanity is funny, surprising, moving and exciting: the French author looks at us without ever judging us, with ever new eyes. And he offers us a possible direction, a sense in the chaos, a brake on fear'. It is from these considerations that director Serena Sinigaglia moves to create a stage version of the text, interpreted by Marco Brinzi, Alvise Camozzi, Emanuele Turetta, Oscar De Summa and Mattia Fabris.
A production by: TSV - Teatro Stabile del Veneto, Teatro Stabile di Bolzano and Centro d'Arte Contemporanea Teatro Carcano
Duration: approx. 100 min.
Information & booking:
Organization: Teatro Stabile di Bolzano
Teatro Stabile di Bolzano
Tel. 0471 301 566
www.teatro-bolzano.it
TICKET PRICES
full numbered seat € 19
reduced price tickets over 65 numbered seats € 14
concessions under 26 and CGN holders numbered seats € 9
reduced price for under 20s numbered seats € 6
TICKET SALES ON PERFORMANCE DAYS
from 7 p.m.
PRE-SALE TICKETS
In Bolzano at the municipal theatre box office and online at www.teatro-bolzano.it
From 2nd October tickets will be available for purchase at the following 13 branches of the Sparkasse, distributed throughout the region: the three branches in Bolzano (Gries, Point 12, Via Roma), in the Merano office, in Bressanone, Brunico, Vipiteno, Laives, Egna, Appiano, Silandro and, finally, in two branches in Trentino (Trento Palazzo Sani and Rovereto).
SUBSCRIPTIONS
14 shows
13 on view at the Forum
1 on view in Bolzano at the Teatro Comunale (free bus service reserved for subscribers)
THREE-YEAR SUBSCRIPTION
This year it will again be possible to subscribe to three seasons 2022-23 / 2023-24 / 2024-25 at a special price.
Full season ticket € 150 instead of € 195
Reduced season ticket € 123 instead of € 165
Season ticket under 26 and CGN holders € 67 instead of 90
Season ticket under 20 € 45 instead of 60
ANNUAL SUBSCRIPTION
Full season ticket € 65
Reduced season ticket € 55
Under 26 season ticket and CGN holders € 30 (second under 26 season ticket free)
Under 20 subscription € 20 (a second under 20 subscription is free)
The purchase of new annual and three-year subscriptions, reconfirmations of annual subscriptions and withdrawal of three-year subscriptions is possible:
Until 26 October in Bolzano at the ticket office of the Municipal Theatre at Piazza Verdi 40 (Tuesday to Friday from 11 a.m. to 2 p.m. and 5 p.m. to 7 p.m., Saturday from 11 a.m. to 2 p.m.) or by calling T 0471 053800.
Unused tickets are not subject to refund. Once the performance has started, no admission to the auditorium is permitted until the first intermission. Cheating does not guarantee the right to keep the seat indicated on the ticket.
For spectators with disabilities admission to performances is reduced and free for the accompanying person.
More information: www.teatro-bolzano.it