10/21/2021 - 8:30 PM Uhr
Un peep show per Cenerentola (theatre in italian language)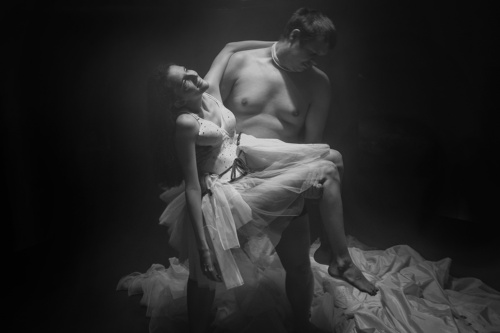 "A peep show for Cinderella" is first of all a dramaturgical space, a talking scenography, a creation of theater-dance imagined and conceived precisely for that place that feeds on gazes, on hidden eyes that look without being seen. A stage space consisting of a circular platform, surrounded by 14 individual glazed booths that will accommodate 14 spectators.
The space creates an intimate, almost secret relationship between actor and spectator. In the '2O of' 9OO used as a place for games of seduction and sensuality in velvet atmospheres, the Peep Show today has another opportunity: Teatro la Ribalta-Kunst der Vielfalt has decided to make it the appropriate stage space for the moment we are crossing, thus guaranteeing physical distancing, without losing the uniqueness of the live show or renouncing sociality.
Cinderella is a pretext, a suggestion, which leads to the themes of desire, appearance and beauty.
By: Paola Guerra and Antonio Viganò
Director: Antonio Viganò
Choreographic writing: Michela Lucenti
Scene: Roberto Banci
Costumes: Elena Beccaro
Actors and dancers: Jason De Majo, Paolo Grossi, Maria Magdolna Johannes, Mirenia Lonardi, Stefania Mazzilli Muratori, Sara Menestrina, Michael Untertrifaller, Rocco Ventura
Technique: Melissa Pircali, Andrea Venturelli
Production: Teatro la Ribalta-Kunst der Vielfalt
Co-production: Oriente Occidente Dance Festival with the support of EBA Europe Beyond Access co-funded by the Creative Europe Program of the European Union
Information & booking:
Information and tickets:
More dates:
10/18/2021 - 7:00 PM Uhr
10/19/2021 - 7:00 PM Uhr
10/20/2021 - 7:00 PM Uhr
10/20/2021 - 8:30 PM Uhr
10/21/2021 - 7:00 PM Uhr
10/22/2021 - 7:00 PM Uhr
10/22/2021 - 8:30 PM Uhr
10/23/2021 - 7:00 PM Uhr
More information: www.teatrolaribalta.it