11/7/2023 - 11:00 AM Uhr
Youth theater: Kabale and love (in german language)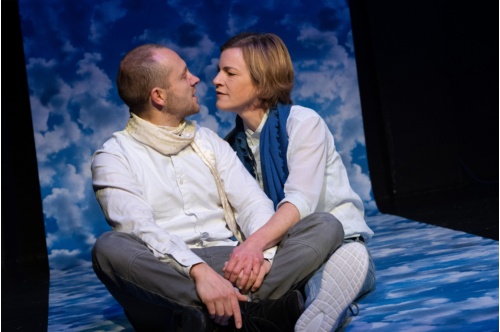 For 3rd to 5th grade high school and vocational school students.
When love leads to death
Luise loves Ferdinand, Ferdinand loves Luise. Actually, it's nice and simple. But this love is forbidden. Forbidden by their fathers. Forbidden out of fear of losing their own reputation. But Ferdinand and Luise do not submit. They rebel. They fight for their freedom. But in the end they fail. Not only against the outside world, but also against themselves. To their own demands.
"Kabale und Liebe" is fatally topical. The play ends in murder. A femicide. Ferdinand kills Luise because he believes she is cheating on him. On average, every third day in Italy, a woman still dies of jealousy or similar motives, killed by a partner, ex-partner or family member. Marion Schneider-Bast focuses on this theme in her production, proving that "Kabale und Liebe" is anything but an old ham. Gerrit Bernstein and Eva Coenen slip into all the roles and bring the carefully tightened text to new life.
A guest performance by the Theater Überzwerg, Saarbrücken
by Friedrich Schiller
in a version for two by Marion Schneider-Bast
Director: Marion Schneider-Bast
Set design: Jasmin Kaege
With: Gerrit Bernstein, Eva Coenen
Photo © Uwe Bellhäuser
Start: 8.45 a.m. and 11 a.m. respectively
Duration: approx. 1 hour 15 minutes
For the 1th to 4th grade of primary school
Duration: approx. 1 hour 10 minutes
Prices:
6 € (pupils)
10 € (adults)
0 € (teachers accompanying school classes)