11/5/2018 - 8:00 PM Uhr
BlacKkKlansman (in german language)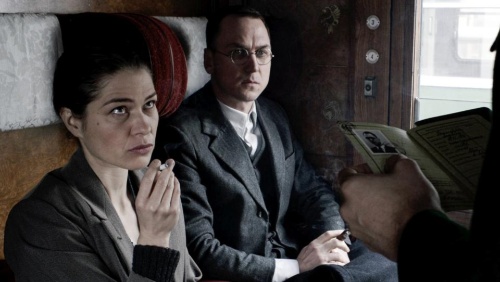 USA 2018, 136 min.
Director: Spike Lee
with: John David Washington, Laura Harrier, Adam Driver, Topher Grace, Ryan Eggold, Jasper Pääkkönen, Alec Baldwin, Michael Buscemi, Robert John Burke, Corey Hawkins, Paul Walter Hauser, Harry Belafonte
In the early 1970s, Ron Stallworth is hired as the first black officer in the Colorado Springs, Colorado police department. Stallworth is initially assigned to work in the records room, where he faces racial slurs from his coworkers. Stallworth requests a transfer to go undercover, and is assigned to infiltrate a local rally at which national civil rights leader Kwame Ture is to give a speech. At the rally, Stallworth meets Patrice Dumas, the president of the black student union at Colorado College. While taking Ture to his hotel, Patrice is stopped by patrolman Andy Landers, a corrupt, racist officer in Stallworth's precinct, who threatens Ture and sexually assaults Patrice.
After the rally, Stallworth is reassigned to the intelligence division. While reading the paper, he finds an advertisement to join the Ku Klux Klan. Stallworth calls and pretends to be a white man, and speaks with Walter Breachway, the president of the Colorado Springs chapter. Stallworth recruits his Jewish coworker, Flip Zimmerman, to act as him in order to meet the Ku Klux Klan members in person. Zimmerman attends a meeting and meets Walter, along with the more radicalized member Felix Kendrickson. Zimmerman also speaks with another member named Ivanhoe, who cryptically refers to an upcoming attack.
Zimmerman and Stallworth continue to cultivate their relationship with the local Klan chapter. Calling Klan headquarters in Louisiana to expedite his membership, Stallworth speaks with David Duke, the Grand Wizard, with whom he begins regular conversations on the phone. Kendrickson makes Zimmerman take a "Jewish lie detector test" at gunpoint, but Stallworth throws a rock through the Kendrickson family window to distract everyone. Stallworth begins dating Patrice, but does not tell her that he is a police officer. After passing on information to the Army CID about active duty members, he learns from a meeting with an FBI agent that two of the chapter's members are military personnel stationed at NORAD headquarters.
Duke visits Colorado Springs for Stallworth's induction into the Klan; over the real Stallworth's protests, he is assigned to a protection detail for Duke. After Zimmerman, masquerading as Stallworth, is initiated, Felix's wife Connie leaves the ceremony to place a bomb at a civil rights rally. Stallworth realizes her intentions and alerts local police officers. Acting on Felix's backup plan, Connie tries to plant the bomb in Patrice's mailbox; finding that it will not fit, she leaves it under Patrice's car instead. Stallworth tackles her as she tries to flee, but uniformed officers detain and beat him over his protests that he is working undercover. Felix, Ivanhoe, and bomb maker Walker (who had recognized Zimmerman from a prior arrest and conviction) arrive and park next to Patrice's car. They set off the bomb, not knowing where Connie had hidden it, and are killed in the explosion. Zimmerman arrives and frees Stallworth, and Connie is arrested. While celebrating the closed case that night, Stallworth wears a hidden microphone and tricks a drunken Landers into bragging about his assault on Patrice; with the confession on tape, Landers is arrested.
Police Chief Bridges congratulates the team for their successful operation, but orders them to end it and keep all details from the public. As he is packing up, Stallworth receives one last call from Duke. Stallworth reveals to Duke that he is a black man before hanging up. Later, Patrice and Stallworth discuss their future together, only to be interrupted by a knock on the door. Through the window, they see a large flaming cross on a distant hillside surrounded by Klan members.
The film closes with footage from the 2017 Unite the Right rally in Charlottesville, Virginia, including footage of the white supremacists, David Duke giving a speech to the attendees, counter-protesters, the car attack, and President Trump's statements after the events. The film ends with a memorial to Heather Heyer, the car attack victim, and an upside-down American flag, which fades to black and white.
Information & booking:
Organization: Filmclub
Tickets:
At 7.30pm in the foyer of the Forum Bressanone
More information: www.filmclub.it