11/12/2018 - 8:00 PM Uhr
In den Gängen (in german language)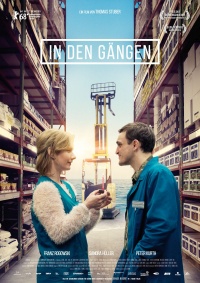 DE 2018, 125 min.
Director: Thomas Stuber
with: Sandra Hüller, Franz Rogowski und Peter Kurth u.a.
Forklift driver Christian is new to the wholesale market. Silently, he plunges into the unknown universe: the long corridors, the eternal order of the warehouses, the surreal mechanics of forklift trucks. Bruno, the colleague from the drinks department, takes care of him, shows him tricks and tricks, like a fatherly friend. And then there's Marion of the Confectionery Department, making her little jokes with Christian. When he falls in love with her, the whole hypermarket feverishly. But Marion is married, but not very happy, it seems.
Information & booking:
Organization: Filmclub
Tickets:
At 7.30pm in the foyer of the Forum Bressanone
More information: www.filmclub.it