12/3/2018 - 8:00 PM Uhr
Lucky (in german language)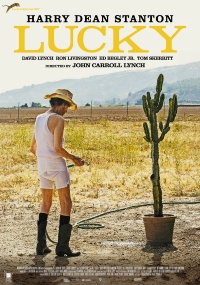 USA 2017, 88 min.
Director: John Carroll Lynch
with: Harry Dean Stanton, David Lynch, Ron Livingston, Ed Begley Jr.
Old Lucky is a 90-year-old loner, atheist and free spirit. He lives alone in a desert coffin and spends his days with proven rituals - yoga and iced coffee in the morning, in the evening he likes to drink a Bloody Mary in the Stammbar. After a feeble attack, however, he begins to worry about the inevitable end of life.
Information & booking:
Organization: Filmclub
Tickets:
At 7.30pm in the foyer of the Forum Bressanone
More information: www.filmclub.it