12/13/2022 - 8:30 PM Uhr
Theatre: Gershwin Suite / Schubert Frames (in italian language)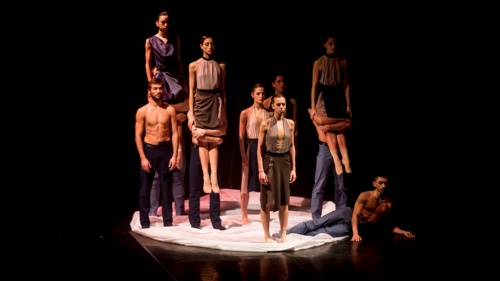 choreography Michele Merola and Enrico Morelli
music George Gershwin, Stefano Corrias, Franz Schubert
lighting design and set design Cristina Spelti
set design Alice De Lorenzi
costumes Carlotta Montanari
performers MM Contemporary Dance Company (9 dancers)
SCHUBERT FRAMES
A collage of famous Schubert pieces serve as the soundtrack to this work dedicated to the many souls of contemporary man, where love gives way to disenchantment, detachment to sharing, passion to fear, and vice versa, in a coming and going between crescendo and diminuendo, to reveal entire universes and secret bonds. The choreography of Schubert Frames is an abstract tale of loneliness and kindred souls, in an era such as ours, tired, turbid, disenchanted, tormented by a malaise that hangs in the air, but also anxiously searching for meaning and hope for happiness. A work dense with poetic images, which become one with the music and marry its compositional richness, intimately bonding with its inexhaustible variety and what it expresses.
GERSHWIN SUITE
Starting from the best pieces by George Gershwin and the suggestions coming from the paintings of another great American artist, Edward Hopper, Michele Merola has created Gershwin Suite, whose soundtrack anthologises not only the composer's most captivating pages, such as Summertime and Rhapsody in blue, but also the more romantic and intimate ones. Some scenes are thus inspired by the connection between the different pieces of music and various paintings - such as Soir Bleu, Summer in the City, People in the sun - by Hopper, a painter whose realism is considered an artist capable of depicting humble and simple moments of everyday life in a poetic and evocative manner.
On stage, so much variety takes on the manner of a film set, thanks also to a set design that changes constantly and a choreography that touches several keys, thanks to the versatility of the choreographer.
A production by MM Contemporary Dance Company in co-production with Teatro Ristori in Verona
Duration: approx. 90 min.
Information & booking:
Organization: Teatro Stabile di Bolzano
Teatro Stabile di Bolzano
Tel. 0471 301 566
www.teatro-bolzano.it
TICKET PRICES
full numbered seat € 19
reduced price tickets over 65 numbered seats € 14
concessions under 26 and CGN holders numbered seats € 9
reduced price for under 20s numbered seats € 6
TICKET SALES ON PERFORMANCE DAYS
from 7 p.m.
PRE-SALE TICKETS
In Bolzano at the municipal theatre box office and online at www.teatro-bolzano.it
From 2nd October tickets will be available for purchase at the following 13 branches of the Sparkasse, distributed throughout the region: the three branches in Bolzano (Gries, Point 12, Via Roma), in the Merano office, in Bressanone, Brunico, Vipiteno, Laives, Egna, Appiano, Silandro and, finally, in two branches in Trentino (Trento Palazzo Sani and Rovereto).
SUBSCRIPTIONS
14 shows
13 on view at the Forum
1 on view in Bolzano at the Teatro Comunale (free bus service reserved for subscribers)
THREE-YEAR SUBSCRIPTION
This year it will again be possible to subscribe to three seasons 2022-23 / 2023-24 / 2024-25 at a special price.
Full season ticket € 150 instead of € 195
Reduced season ticket € 123 instead of € 165
Season ticket under 26 and CGN holders € 67 instead of 90
Season ticket under 20 € 45 instead of 60
ANNUAL SUBSCRIPTION
Full season ticket € 65
Reduced season ticket € 55
Under 26 season ticket and CGN holders € 30 (second under 26 season ticket free)
Under 20 subscription € 20 (a second under 20 subscription is free)
The purchase of new annual and three-year subscriptions, reconfirmations of annual subscriptions and withdrawal of three-year subscriptions is possible:
Until 26 October in Bolzano at the ticket office of the Municipal Theatre at Piazza Verdi 40 (Tuesday to Friday from 11 a.m. to 2 p.m. and 5 p.m. to 7 p.m., Saturday from 11 a.m. to 2 p.m.) or by calling T 0471 053800.
Unused tickets are not subject to refund. Once the performance has started, no admission to the auditorium is permitted until the first intermission. Cheating does not guarantee the right to keep the seat indicated on the ticket.
For spectators with disabilities admission to performances is reduced and free for the accompanying person.
More information: www.teatro-bolzano.it