2/9/2023 - 8:00 PM Uhr
Concert: Azahar Ensemble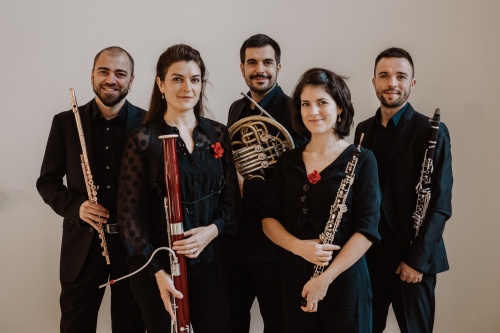 Maria Alba Carmona Tobella, oboe
Miquel Ramos Salvadó, clarinet
Antonio Lagares Abeal, horn
María José García Zamora, bassoon
Rosalia Gomez Lasheras, piano
W. A. Mozart: Quintet in E flat major for piano, oboe, clarinet, horn and bassoon KV 452
L. v. Beethoven: Quintet in E flat major for piano, oboe, clarinet, horn and bassoon op. 16
The Azahar Wind Ensemble, founded in 2010 from musicians of the National Youth Orchestra of Spain, was awarded second prize (first not awarded), the audience prize and a special prize at the 2014 ARD Music Competition. The ensemble was also trained by the bassoonist Sergio Azzolini from Bolzano, among others. Together with the young Spanish pianist Rosalia Gomez Lasheras, it plays the wonderful quintets for piano, oboe, clarinet, horn and bassoon by Mozart and Beethoven. In a letter to his father, Mozart singled out the quintet from a concert programme, "which has received extraordinary acclaim ... I myself consider it the best thing I have written in my life."
In collaboration with Musik Meran
Entrance fees:
Normal price € 15.00
adult
Reduction € 10.00
Members of the cultural association Brixen Musik & Pro Cultura
Students with ID
Family pass
Seniors over 65
Reduction € 5.00
Children & teenagers up to 18
Students of music schools
Music teachers together with students
Information & booking:
Organization: Kulturverein Brixen Musik
Ticket sales from Friday, January 27:
Forum Brixen-Bressanone
Tel. 0472 275 588 (Mon-Fri 9am-12pm and Mon-Thu 2pm-5pm)
info@forum-brixen.com
As the number of seats is limited, we recommend that you reserve your tickets for the concert early.
In order to avoid crowds, the tickets should be purchased before the concert in the Forum Brixen during office hours from Januaray 27.
More information: kulturvereinbrixen.it