11/23/2022 - 8:00 PM Uhr
Heldenplätze (theatre in german language)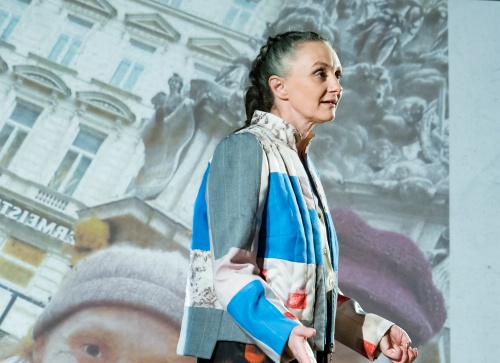 by Calle Fuhr
World premiere production
A guest performance of the Volkstheater, Vienna
Director and stage: Calle Fuhr
Costume design: Friederike Wörner
Dramaturgy: Matthias Seier
With: Theresa: Gerti Drassl
Shadows of Memory
What do we remember? And what don't we? In his play "Heldenplätze", author and director Calle Fuhr links an invented character - Theresa, embodied by Gerti Drassl - with the real story of Toni Sailer. Theresa has actually long since made peace with her bleak childhood in the Salzburg countryside and the early accidental death of her beloved brother Pepi, but now she dares to tell her story. Together with her brother, who wanted to become a skier, Theresa had one idol above all: Toni Sailer. Not only was he a legend and national hero as a skier, he also made a career as an actor and pop singer. And when his film "Der schwarze Blitz" was on TV, Theresa's family sat together in harmony. But in 2018, nine years after Sailer's death, serious rape allegations from 1974 against Sailer are being reopened. And Theresa must ask herself at whose expense she maintains her happy memories.
In Calle Fuhr's play about the longing for role models, about cover-ups and the pain of remembering, journalism meets theatre. "Gerti Drassl brings a moving one-woman show to the stage, skilfully revealing Theresa's fickle states of mind." (Wiener Zeitung)
Photo © Nikolaus Ostermann
Duration: ca. 1 hour 30 minutes, without break


Introduction at 7:30 pm!
Information & booking:
Organization: Südtiroler Kulturinstitut
Information and tickets:
Südtiroler Kulturinstitut
Tel. 0471 313800
Individual tickets: can be reserved from 22 September 2022 at the office of the Südtiroler Kulturinstitut, Via Sciliar, 1 in Bolzano, by telephone on 0471 313800 or by e-mail (info@kulturinstitut.org).
Payment of individual tickets: The reserved tickets must be paid for within 10 days of reservation. Payment can be made directly at the office of the South Tyrolean Cultural Institute or by bank transfer. As reason for payment, please state the name and reservation number you receive when making the reservation. Pre-booked and paid tickets will be deposited at the box office.
Standing room: Standing room tickets are only available for sold-out events, subject to fire regulations at the respective venues and applicable Corona safety measures. They are only available at the box office.
Box office: The box office is open from 7pm on the day of the event.
Discounts: Discounts are available for students up to the age of 26. Senior* citizens receive special prices from the age of 65.
Covid 19:
In the 2022/23 season we will again be playing at full capacity. For your own health and safety, we still recommend that you behave prudently, keep your distance when walking into the hall, remember hygiene and precautionary measures and protect yourself by wearing a mask if necessary.
As the regulations can change at any time, please inform yourself about current regulations promptly before each performance. Please feel free to contact us if you have any questions about this.
People who feel ill, have cold symptoms or a temperature above 37.5 degrees, please stay at home.
More information: www.kulturinstitut.org