11/7/2022 - 10:45 AM Uhr
Youth theater: Momo (in german language)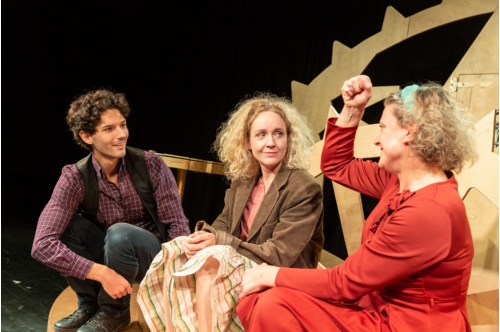 For the 3rd to 5th grade of primary school
Take your time and listen!
Suddenly she is there: Momo, a girl with a very special talent - she can listen to people. Beppo Straßenkehrer, Wirt Nino and Friseurin Bella are soon her best friends. Momo does everyone good, listens sympathetically to their stories. Everything would be fine, but then the Grey Gentlemen from the Time Savings Bank appear all over town. They tell people how much time they could save! But in spite of saving time, people become more and more stressed and have less and less time for each other. The Grey Lords are cheats and steal time for themselves! Momo realises that her friends are becoming increasingly unhappy. She is the only one who can save them. Will Momo be able to do so with the help of the wise turtle Cassiopeia and the master of the hour flowers Mrs. Hora?
Michael Ende's fairy-tale novel full of poetry and warmth of heart about the magic of time has already been adapted several times for theatre, film and musical. For the Theatre of the Child, Henry Mason has developed his own version for four actors.
A guest performance by the Theater des Kindes, Linz
By Henry Mason after Michael Ende
Director: Julia Ribbeck
Music: Nebojsa Krulanovic
Set design: Isabella Reder
Costumes: Natascha Wöss
With:
Simone Neumayr, David Baldessari, Katharina Schraml, Thomas Bammer

Photo: Kurt Hoerbst
Duration: approx. 1 hour 15 minutes
Prices:
5 € (pupils)
10 € (adults)
0 € (teachers accompanying school classes)